* Yamatake Autimation (M) Sdn. Bhd. has been changed to Azbil Malaysia Sdn. Bhd. as of April 1, 2009.
---
Jan 2014
Team Building
-New!!
Date: 10 Jan 2014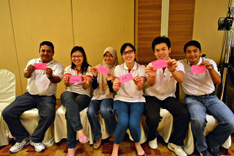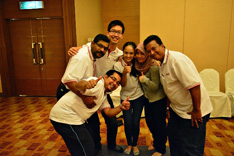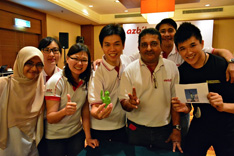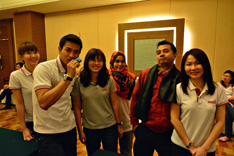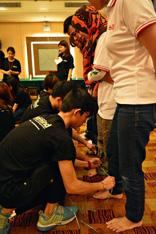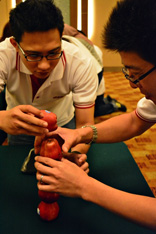 Annual Dinner
-New!!
Date: 10 Jan 2014
Venue: Cititel Hotel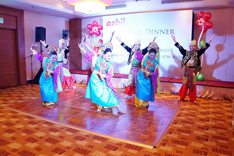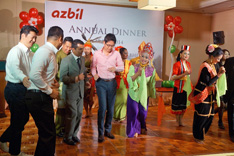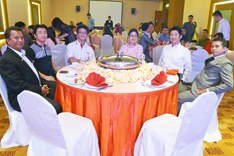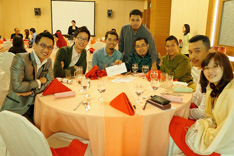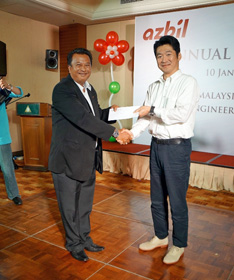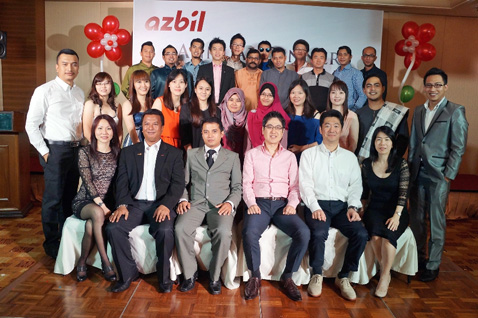 December 2012
Annual Dinner 2012
Date: 28 Dec 2012
Venue: The Gardens Hotel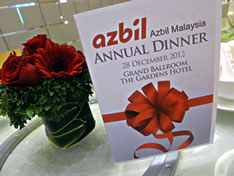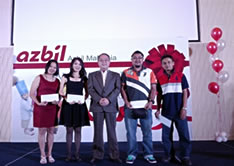 Group photo of 5 years service award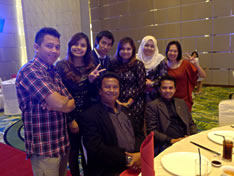 Members from IA Dept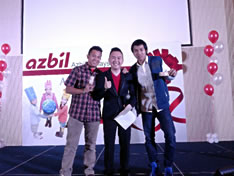 Emcee of the event and winners for the stage games.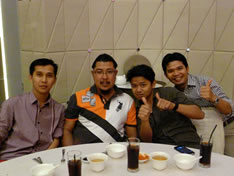 Members from Penang & JB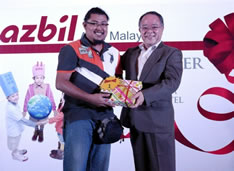 Mr. Anan presented the grand prize to the winner.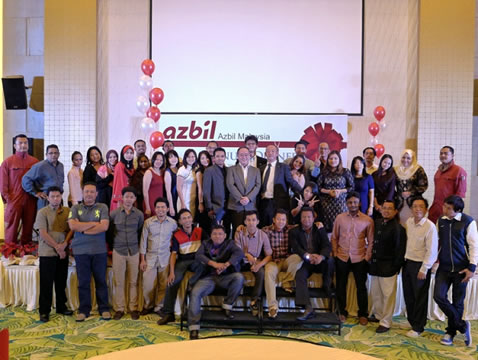 Group photo
Sepember 2012
Teambuilding Team Empowerment in Malacca
This teambuilding program that focuses on instilling good values in the workplace and giving participants a distinct advantage over other organizations that do not believe in teams. This program creates an awareness for teamwork and works to have participants be empowered, not only as individuals, but also as a team, to reach new heights as an organization.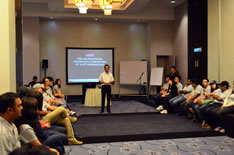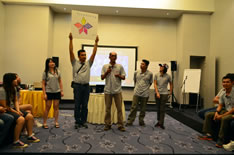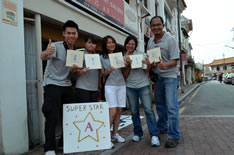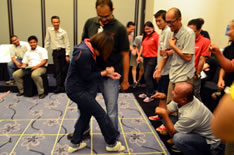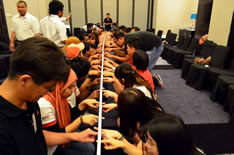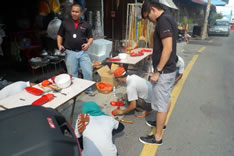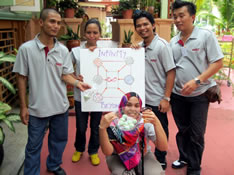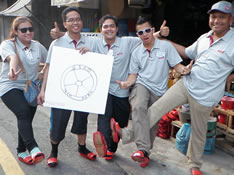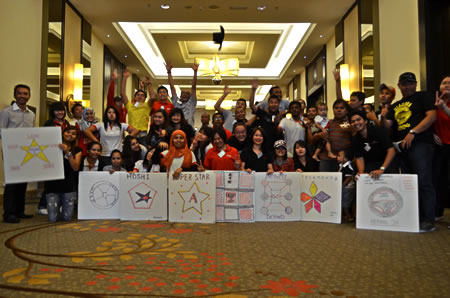 May 2012
ICA 2012
The 11th edition of ICA2012 was held in KLCC Convention Centre, on 22 - 24 May 2012. Occupying some 4,500 sq meters of floor space, the three day event attracts more than 300 participating and representative companies (including a national pavilion from Singapore) with 95% of the exhibited technology originating from overseas. The event will offer visitors a valuable insight into the latest solutions and innovation in the handling of industry-related matters and ways of boosting manufacturing processes, quality and laboratory performances. Azbil Malaysia was awarded with the Best Booth Design for the excellence in the booth design.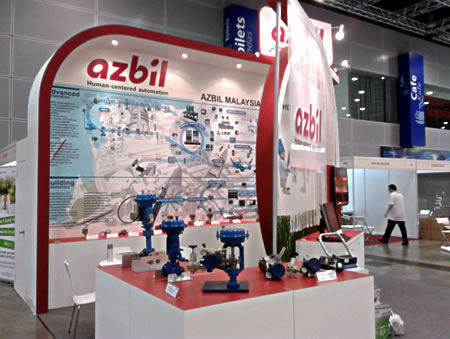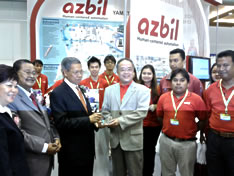 Our Managing Director, Mr. Kimio Anan receiving the Best Booth Design Award from Dato' Sri Mustapa Mohamed, Minister of International Trade and Industry.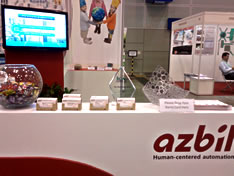 Group photo with the award.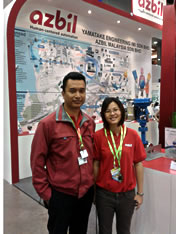 Thanks to our organizer, Mr. Azfan and Ms Thee.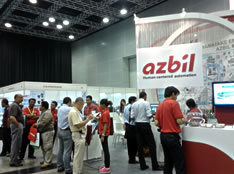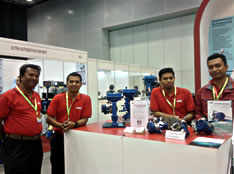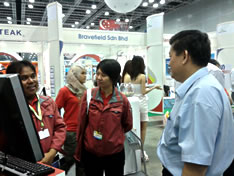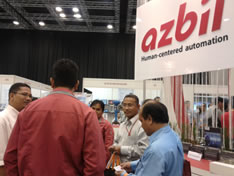 February 2012
Green Build Asia 2012
Content:
- MALAYSIA'S BIGGEST INTERNATIONAL BUILDING & CONSTRUCTION SHOW
- Over 10,000 Property Developers, Architects, Building Consultants, M&E Engineers, Civil Engineers, Contractors, Facility Managers, Interior/Landscape Designers and Government Officials at expected to converge at GREENBUILD ASIA 2012 Expo
- The International Building & Construction Show focusing on Sustainable Building from 14-16 February 2012 at the Kuala Lumpur Convention Centre.
Objective:
For expansion of business,
To promote azbil brand in local market
To reveal azbil capability to local customers
To develop new potential customers
To appeal Energy Saving by using IBMS collaborated with a local system integrator
Exhibitors and trade visitors has given thumbs up to the inaugural GREENBUILD ASIA 2012 Exhibition which came to a successful close on 16th February after hectic 3 days of product launches, business networking and forging of new partnerships. Held in conjunction with the International Construction Week 2012, the event was attended by over 12,000 delegates and trade visitors.
Opened by YAB Dato' Sri Najib Razak, Prime Minister of Malaysia, the exhibition welcomed many dignitaries including Y.B. Dato' Shaziman Bin Abu Mansor, Minister of Works, YB Dato' Sri Peter Chin Fah Kui, Minister of Energy, Green Technology and Water Malaysia and Y.B. Senator Dato' Raja Nong Chik Bin Dato' Raja Zainal Abidin, Minister of Federal Territories and Urban Well Being.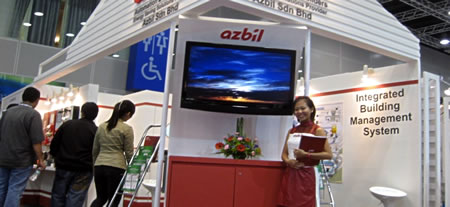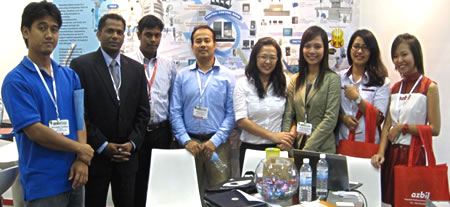 (All Azbil Malaysia staffs got together with smile.)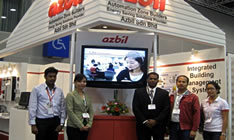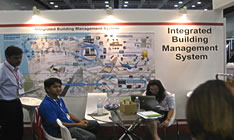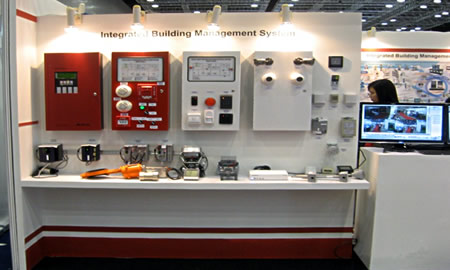 Azbil Malaysia demonstrated IBMS system.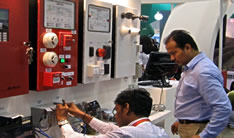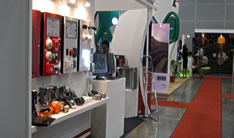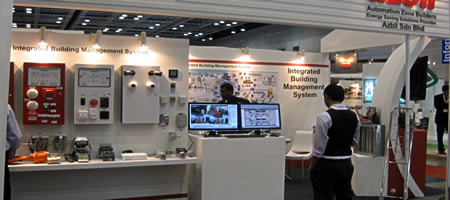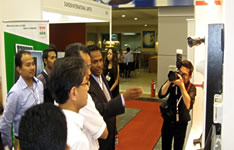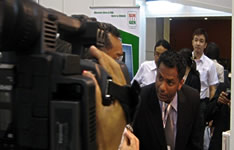 Y.B. Dato' Shaziman Bin Abu Mansor, Minister of Works visited Azbil Malaysia booth. Sree explained the "IBMS" system and HVAC products. Azbil Malaysia booth welcomed many other top level visitors from JKR and city councils.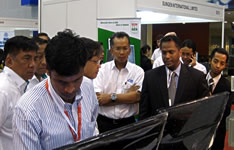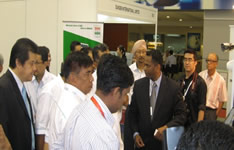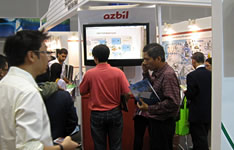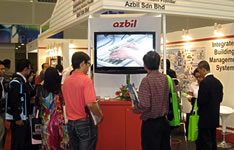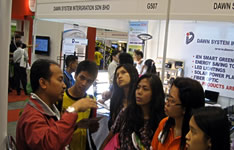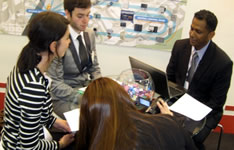 Sree explained to an overseas press about the 'ENERGY SAVING' using "IBMS"system.
January 2012
Annual Dinner on 13 January 2012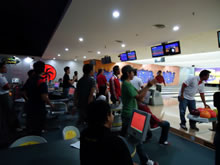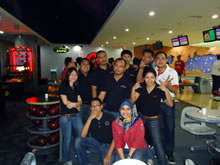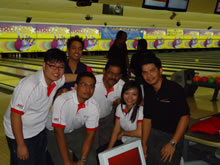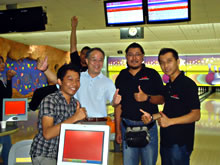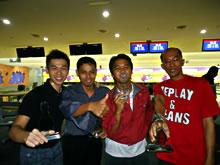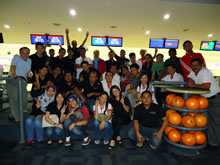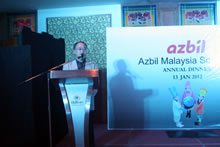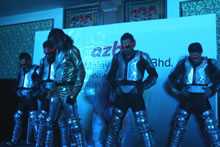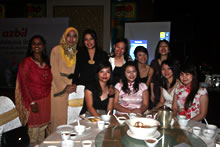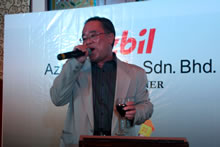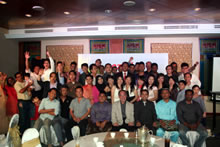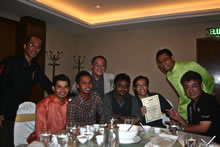 July 2011
Building a Collective Performance Workforce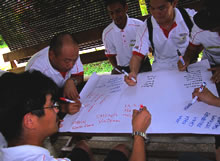 Date: 23-24 JULY 2011
Place: Adeline Resort at Gopeng, Ipoh
In this training workshop, participants are taught to adapt to change in order to reach emerging markets with full organizational alignment and synergy. Those who respond effectively will come out stronger than ever.
Activities included: Waterfall Abseiling, White Water Rafting, Jungle Trekking.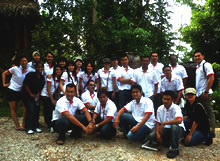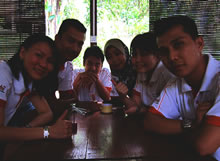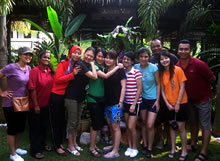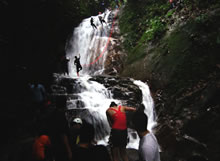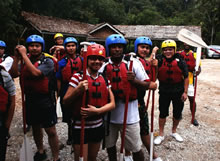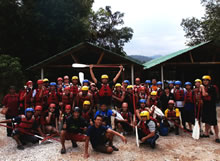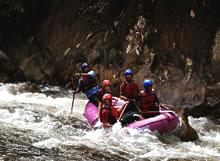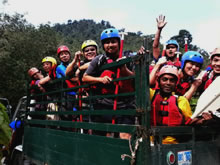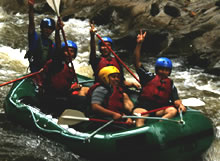 July 2011
Malaysia & Japan Green Technology Workshop
Malaysia-Japan Green Technology Workshop, which was sponsored by KeTTHA and JBIC, was held in Prince Hotel, KL on 15 June 2011. Azbil Malaysia was invited to this workshop as one of the six leading Japanese companies and presented ESCO and BMS (Building Management System) for energy conservation.
After the workshop, our MD was also invited to the dinner at Intercontinental Hotel with Minister of Energy, Green Technology and Water-Y.B. Dato' Sri Peter Chin Fah Kui.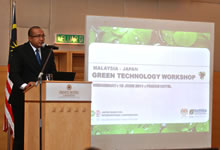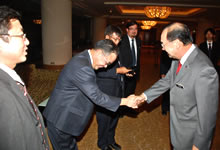 May 2011
TATI International Conference 2011
The conference of Robotic & Automation System, Chemical Innovation and Advance Manufacturing which organised by TATI University College was held on 23-24 May 2011 at Terengganu International Training Centre. We successfully increased our current customer at east Malaysia such as Petronas Gas, Petronas Carigali, Ethylene, Huntsman, Perwaja Steel and etc.
Photo Gallery: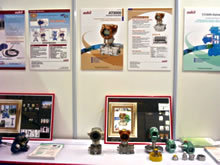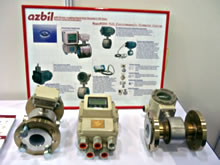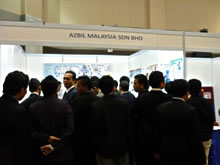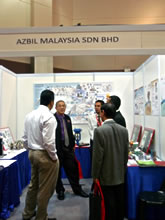 Dec 2010
Annual Dinner Party on 17th December 2010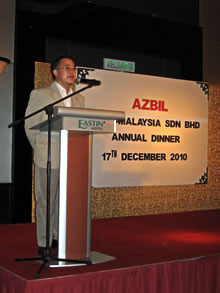 Annual Dinner Party on 17th December 2010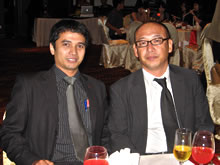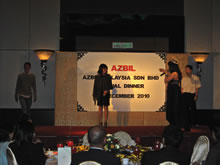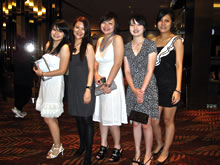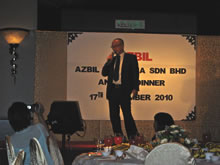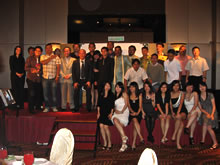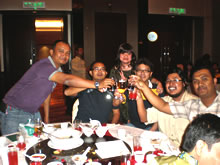 July 2010
HIGH PERFORMANCE WORK TEAM
17th - 18th JULY 2010
EAGLE RANCH RESORT AT PORT DICKSON, SEREMBAN
This is a highly interactive experiential learning program, where participants are to learn through actual doing and experience. Key learning points of effective team performance are to be delivered through in/out-door practical activities.
Activities include: Draw The cat, Formation of teams, Bird Story, Magic Rope, Short vs Long Rope, Everyone Has Value, Let's Court, Confusing Instruction, Sea Rafting, Spider Web, Trust Lift, Bottle Web, Building Rotation and Hand Lock.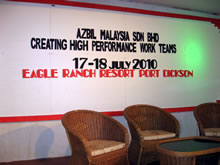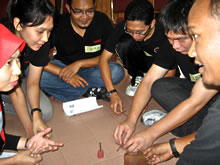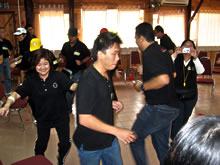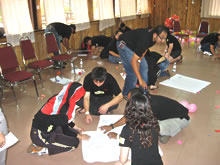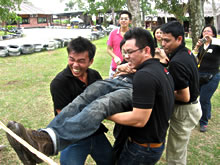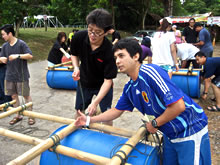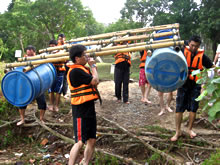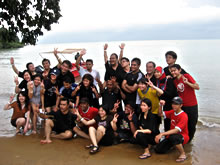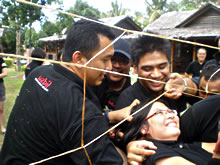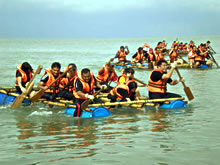 June 2010
ICA 2010
The 10th International Exhibition & Conference On Instrumentation, Control & Automation 8 - 10 June 2010.
ICA 2010 is organized with the combined resources of two main organizations (SIRIM Bhd & FACON Exhibitions S/B) and that of several supporting agencies.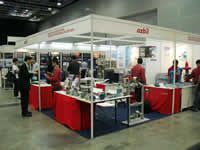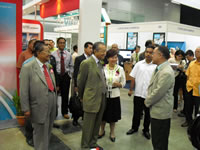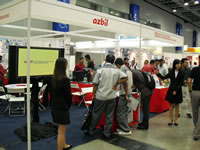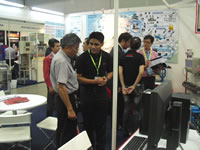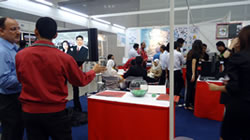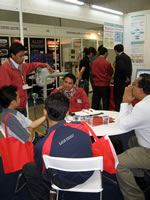 Nov 2009
INTRADE Malaysia 2009 which held from 10 - 12 November 2009,
is organized by the Malaysia External Trade Development Corporation (MATRADE). INTRADE Malaysia provides an ideal platform for Malaysian and foreign exhibitors to establish new contacts and explore opportunities with businessmen from various countries.
Apr 2009
Annual Dinner Party on 17th April 2009
July 2008
Yamatake Global Product Seminar at Johor Bahru on July 3rd, 2008
As Yamatake Automation (M) Sdn Bhd has just open its branch office in Johor Bahru, we held our product seminar at Selessa Hotel in Pasir Gudang Johor Bahru. We also introduced not only brand new GTX transmitter but also Smart Valve Positioner、μFlow flowmeter and others.
| | |
| --- | --- |
| (Packed! Over 50 participants) | (GTX by Hamdi) |
(Good response with many questions, requirements and answers)
Yamatake Global Product Seminar at Kerteh on July 1st, 2008
As Yamatake Corporation has just released totally new transmitter (GTX), we held our product seminar at Awana Kijal Hotel in Kerteh. We also introduced not only GTX but also Smart Valve Positioner、DCS System (Harmonas-DEO) and others.

(Philosophy of

azbil

by Dicky)

(Introducing SVP by Nazri)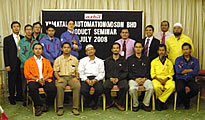 (Cheese! with participants)
May 2008
Yamatake Automation (M) Sdn Bhd has just open its branch office in Johor Bahru on May 2008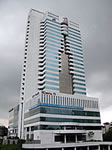 Address :
Suite 10.02, Level 10, City Plaza, No.18, Jalan Sempena, Off Jalan Tebrau, 80250 Johor Bahru, Johor, MALAYSIA
MAP
Tel :
+607-331-1216
Fax :
+607-331-1242
Yamatake Automation (M) Sdn Bhd has just open its branch office in Kuching on May 2008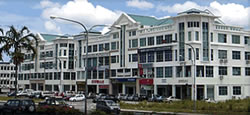 Address :
No. 65, 3rd Floor, Jalan Tun Jugah, 93350, Kuching
Sarawak, MALAYSIA
MAP
Tel :
+608-2570-084, +608-2570-184
Fax :
+608-2570-884
April 2008
Annual Dinner Party on April 4, 2008

(Gathered from all locations,
KL, Penang, JB and Kuching!)

(The Longest service award)
| | |
| --- | --- |
| (The next longest service award) | (1st lucky drawer_left and presenter_right) |
March 2008
Yamatake Automation (M) Sdn Bhd has moved KL HQ in Gardens on March 2008
Suite 11.02, Level 11, The Gardens South Tower, Mid Valley City, Lingkaran Syed Putra, 59200 Kuala Lumpur, MALAYSIA
Tel:+603-2287-7036, Fax:+603-2287-7039