Events
11th November 2022
Team building workshop & dinner
Azbil Malaysia Sdn. Bhd. held the team building workshop and a company social dinner on 11th Nov 2022 after almost 3 years though those were suspended due to Covid-19. Almost all members from KL HQ & our three branches were participated to this event. The team building workshop was held in Kuala Lumpur Tower, also known as KL Tower (*).
The theme of the team building workshop is "KL Tower Explorace". Each group will be given some tasks need to be accomplished within the required time, such like finding the answer from the trivia questions, making human KL Tower, taking creative photo with the criteria given and creating a song to introduce the human KL Tower. However, the time given to carry out the tasks was very limited, so throughout the activity, each member should bring out his/her potential for the team to clear various tasks with other members. However, surprisingly, our employees showed their creative power and good team works when they tackled with difficult tasks.
At the end of the event, the Managing Director, Mr. Taniguchi was given out the prizes to the winners and expressed his gratitude to the event organizer for making our team building so successful and the activities which brought a lot of fun to our members.
At night, we had a fine dining dinner at Grand Hyatt Kuala Lumpur. All members enjoyed the good food and a spectacular view of Kuala Lumpur which overlooking the iconic Petronas Twin Towers.
We felt it was a good bonding with all members from different branches since we have not held such kind of outing for quite some time. All of us had such a good time and great memories.
(*) KL Tower is a 421-meter-tall telecommunication tower in Kuala Lumpur, Malaysia. It is the world's 7th tallest tower and also the tallest tower in Southeast Asia. The tower is the highest viewpoint in Kuala Lumpur with a panoramic view of the city.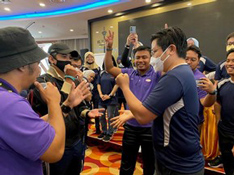 Warming up before started the activity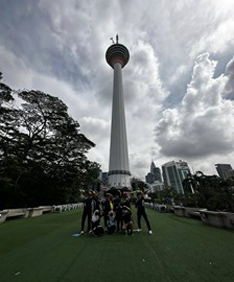 Group members took pic with KL Tower view.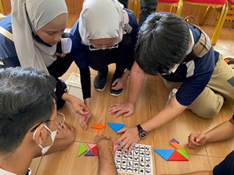 Trying out the solutions to fix the tangram puzzles.
Each group member posing their own creation of "human tower" in an entertaining way which shows every unique structure of KL Tower.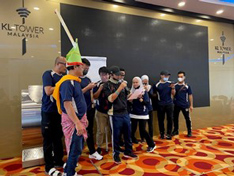 The group presented their own creation song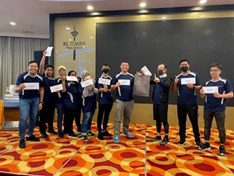 Managing Director Mr. Taniguchi presented the prizes to the group winners.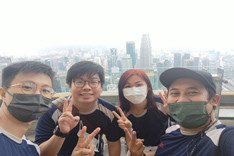 Took pic at the sky deck of KL Tower.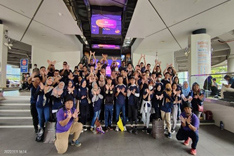 Group photo at the end of the event.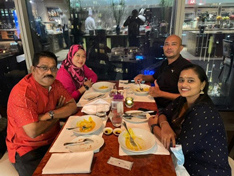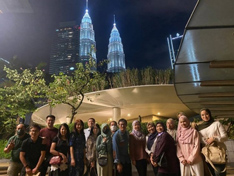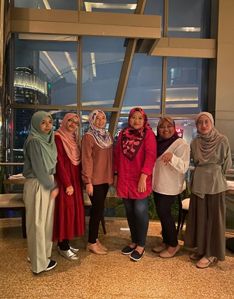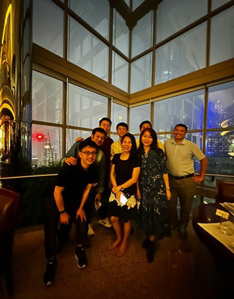 Photos taken during the dinner
13th September 2022
SDG's Activity ? Beach Clean Up(AMY KL HQ & Penang Branch)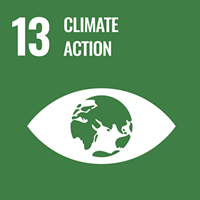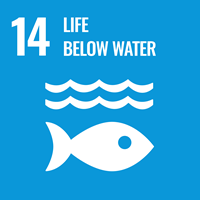 Azbil Malaysia Kuala Lumpur HQ and Penang Branch have been organizing the beach up activity in conjunction with international coastal cleanup day.
It coincides with sustainable development Goal 13 is about "Climate Action" and Goal 14 is about "Life Below Water". The beach clean-up activity is a part of our SDG's initiative towards a sustainable environment. Through this activity, we aim to raise the awareness on the impact of plastic debris on marine life. I am happy with the participation from our staffs in the beach clean-up activity. Following our Group's philosophy, we'll continue with such activities to develop awareness on the values of clean and green surroundings," said Mr. Taniguchi, Managing Director of AMY.
Every year tons of garbage end up in the oceans due to indiscriminate disposal of waste. Sixty percent of this waste is plastic. Plastics are very hazardous to marine life.
Malaysia is famous for its coastal landscapes, it has many beautiful islands and become one of the top destination for travellers in Asia. That's why we must protect our beautiful beach from being polluted.
A total of 26 persons from AMY KL HQ have participated in the beach clean-up at Bagan Lalang beach on 13th Sept 2022. Upon arrival, AMY was greeted by the representative from Sepang Municipal Council, Mr. Muhammad Aizuddin. He were given the briefing for program. Within 1.5 hours, we collected a total of 42.2 kg of trash comprising metal & glass 6.3kg, plastic 15.4kg and general waste 20.5kg. All of which are supposed to be thrown into recycle bins but instead, ended up in our oceans and beach.
This beach is located approximately 68km from AMY KL HQ, about an hour's drive. Bagan Lalang beach is packed on weekends with revellers taking part in fishing, kite-flying, BBQ sessions, water sports activities such as kayaking and camping.
AMY Safety Officer welcomed all the participants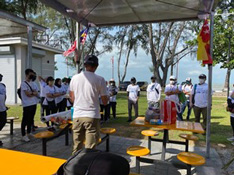 After the briefing session, Mr Taniguchi presented some small gifts to the local council's representative for their supports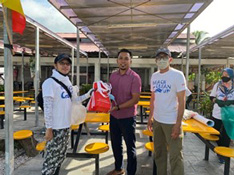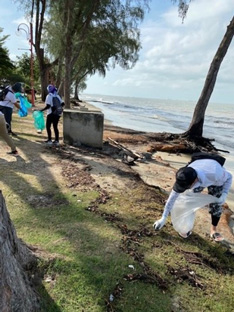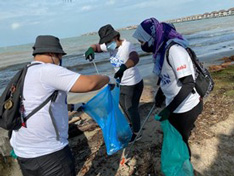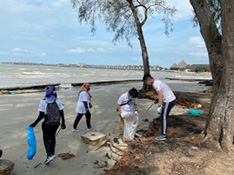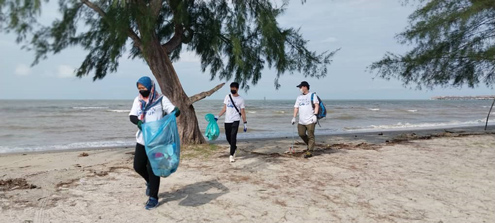 The trash were segregated from metal, glass, plastic and general waste.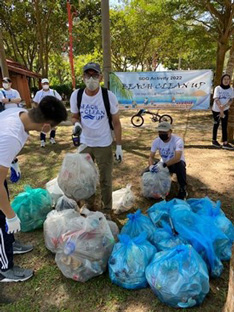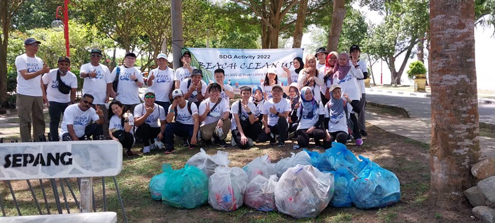 On the other hand, this was also the first time for AMY Penang branch to organise a beach clean-up activity on 30th August 2022 at Pantai Bersih Bagan Ajam, Butterworth Penang. This beach is located approximately 14km from Azbil Penang branch. Interestingly on this beach, we can see the town of Georgetown on the other side of the sea. It's more beautiful at night with the lights from Penang Port and Georgetown. This place is suitable for relaxing activities, kite flying and picnic.
Penang, also known as the pearl of the orient, is one of the most touristic locations of Malaysia. The capital city, George Town, was acknowledged as a UNESCO World Heritage Site in 2008. The state government has launched a Cleaner Greener Penang Initiative. It is part of the vision of turning Penang into an "international city" that is "the location of choice for investors.
A total of 13 of staff were participated in the beach clean up activity. The aim is to collect as much plastic waste and trash on the beach as possible. The most frequently collected waste, which seems to be dominated by plastic, paper drink cups, bottles, and cigarette butts. All rubbish that has been collected is weighed and handed over to the staff there to be disposed. The rubbish collected is approximately 80kg. In addition, this activity can also be said to be our contribution to ensure that the coastal area is clean before the celebration of the country's 65th Independence Day, which is on 31 August 2022.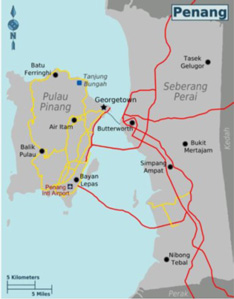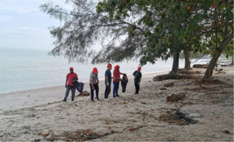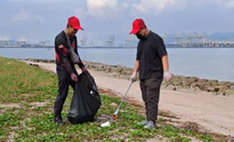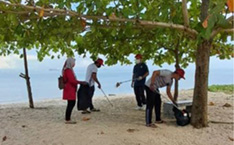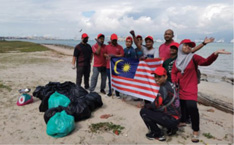 Activities started from 9am to 12pm with breakfast and lunch together.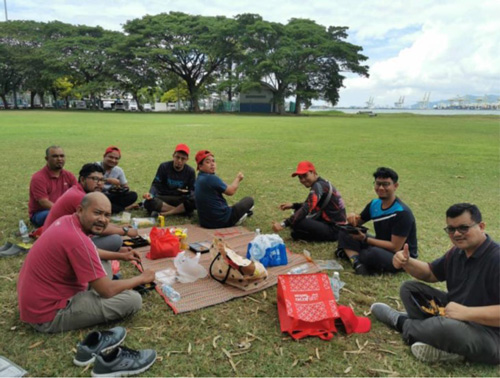 16th August 2022 to 18th August 2022
Azbil Basic Control Valve Training
Azbil Malaysia Sdn Bhd have conducted Basic Control Valve Training Course to our royal customers, Kaneka Malaysia Sdn Bhd, for 3 days at Azbil Penang Branch.
Azbil control valve basic training covered 5 chapter as below: -
Control Valve Terminology
Terminology from Process Data
Terminology from CV Data Sheet
Control Valve Accessories
Profile of Azbil Control Valve
Trainee will have basic knowledge of control valve basic principle as an actuating part to control flow in process.
Understanding about process data in order to select the right control valve model.
Understanding each part of control valve and function of actuator, body and positioner.
Trainee have learned how to perform control valve overhaul and understand the fundamental of control valve maintenance.
Trainee also has been taught how to perform control valve setting and calibration.
Control valve data sheet explanation
Control Valve Structure Explanation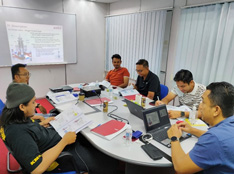 Control Valve Seat Leakage Explanation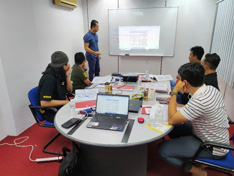 Control Valve Hands on Training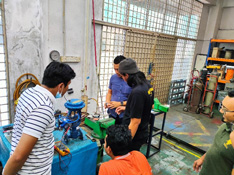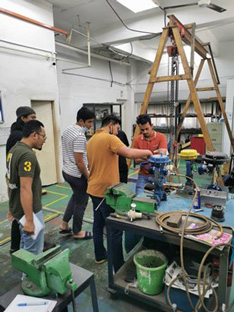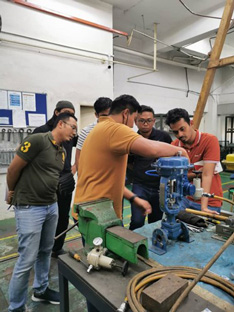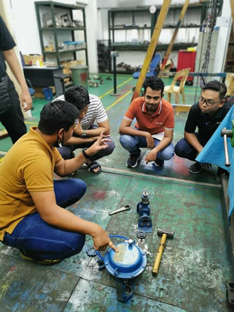 Control Valve Hands on setting and calibration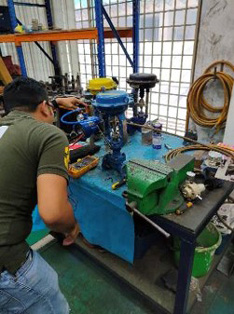 Group Photo @ Kaneka Control Valve Basic Training Course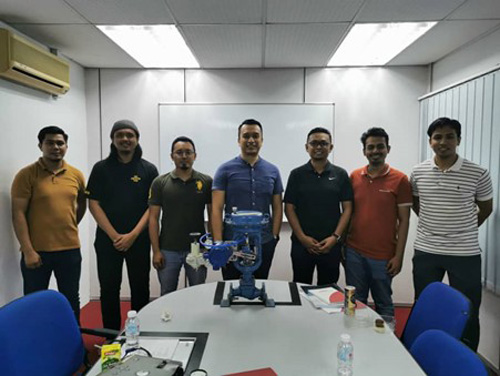 15th May 2022
SDG Activity ? Beach Clean Up
On 15th May, total 14 persons of our staff from Azbil Terengganu branch and their families were gathered at Pantai Teluk Kalong Kemaman, for a beach clean-up activity advancing Sustainable Development Goal 13 on Climate Action and Goal 14 on Life Below Water.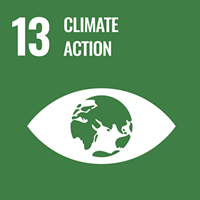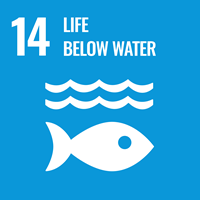 Pantai Teluk Kalong Kemaman which is situated approximately 8km from Azbil Terengganu branch.
It is a popular spot for picnics, kite-flying and leisure. Sadly, litter especially plastic bags which are not biodegradable are commonly found at the beach. At the end of the day, the team managed to collect a total of 200kgs of trash.
The event was organised as part of aG's SDG activity for the environment as well as to bring together the staff from Terengganu branch and their families to get close to nature. It is not just about cleaning the area but to educate people (esp the young kids) on the importance of keeping our waters clean and safe for marine life. With this in mind, Azbil Malaysia Sdn. Bhd. contributed towards the sustainable society based on our Group Philosophy.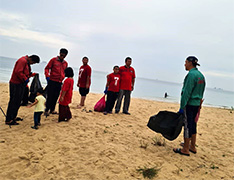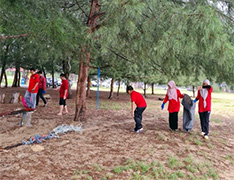 The activity started at 9am with simple briefing by the Branch Manager, Mr. Afzan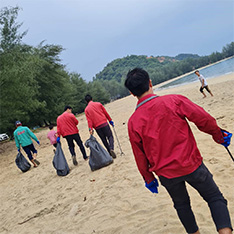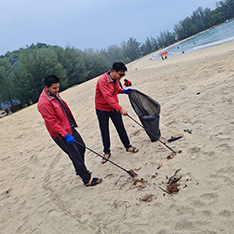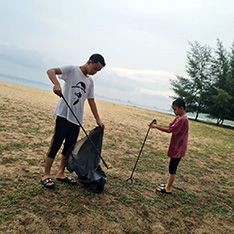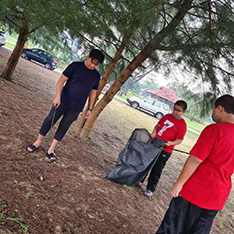 Family members joined together for the activity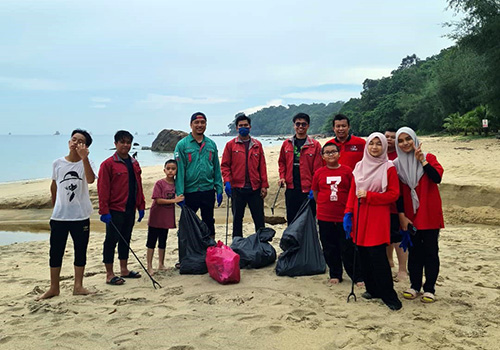 Group photo after the clean up